The National Aquarium of New Zealand in located on the Napier beachfront.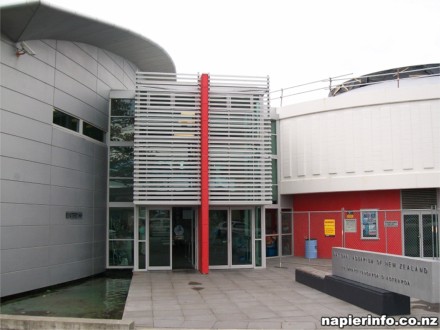 Perfectly positioned on Marine Parade, the National Aquarium boasts New Zealands largest collection of sea life in one place. Sharks, Pirahnas and Stingrays are just some of the hundreds of species swimming before your eyes.
The popular tourist destination houses many large tanks, and most notably the 50m aquarium tunnel where you can jump on the travelator and experience sea life swimming above you! A visit at 10am or 2pm will allow you the chance to view fish feeding time in action. And for the more adventurous you can even swim with the sharks.
Not just an aquarium, the centre offers other displays of wildlife such as the kiwi and tuatara sanctuary and the crocodile enclosure. Allow a couple of hours for your aquarium experience. More information can be found on their website: www.nationalaquarium.co.nz
Aquarium Information
Address: Marine Parade, Napier
Phone No: (06) 834 1404
Admission Prices: Adult $20.00, Child 3 to 14 years $10.00. Under 3 years - Free.
Hours: 9.00am - 5.00pm 7 days except Xmas.
National Aquarium Map