Napier Boys High School is located in Te Awa, at the southern end of Napier.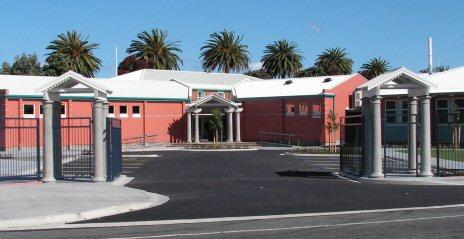 Photo courtesy of Napier Boys
Napier Boys High School is the main boys secondary school in the Napier Area. One of the oldest schools in New Zealand, Napier Boys first opened in 1872 and has a proud tradition of sporting and academic excellence. As with most provincial, same-sex schools, Napier Boys High School offers boarding facilities on-site.
With a role of 1170 students (including 190 boarding) the school has a proud sporting history, producing many sporting greats. It is also interesting to note that there is a school farm adjacent to the campus which offers a unique opportunity to extend students education and knowledge in agriculture. The Hawkes Bay school is also part of the Super 8 High Schools collective.
The school shared a site with Napier Girls on Bluff Hill until 1926 when Napier Boys moved down to it's current location at Te Awa. The Boys school is very close to the water front on Marine Parade, but accessed on Chambers Street.
More information on the Napier Boys website: www.nbhs.school.nz
School Information
Address: Chambers Street, Te Awa, Napier
Phone No: (06) 833 5900
Napier Boys High School Map