The Hawkes Bay Regional Council is located in Napier, on Dalton Street.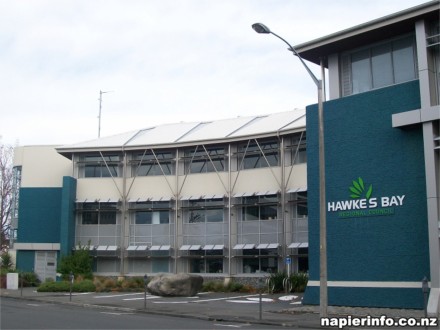 The Hawkes Bay Regional Council is also located in Napier. The council administers the entire Hawkes Bay Region of NZ. Located in the street behind Napier City Council, you'll notice the HBRC by the Aqua green coloured exterior. Local body elections are held every 3 years.
The regional council covers the area from Mahia Peninsula down to Whangaehu, and inland to parts of Taupo. The area under management involves several local councils: Napier City Council, Hastings District Council, Wairoa District Council and the Central Hawkes Bay District District Council.
The organisation is responsible for protection of the natural resources in the Hawkes Bay Area, as well as a regional approach to economic development. More information on the Council website: www.hbrc.govt.nz
Council Information
Address: 159 Dalton Street, Napier
Phone No: (06) 835 9200
Hours: 8am - 5pm, Mon - Fri
Hawkes Bay Regional Council Map