The Hawkes Bay Airport is located at Westshore, just outside Napier.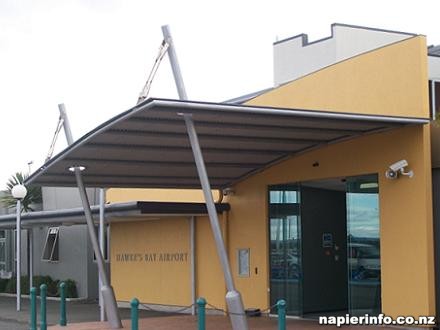 The Hawkes Bay Airport (also known as the Napier Airport) houses regional flights to the main centres of Auckland, Wellington and Christchurch. Also operating from the airport is SunAir who offer regional flights to Tauranga, Hamilton and Gisborne.
The history of the airport is interesting. The area on where it nows stands used to be a popular sailing spot! But the Napier Earthquake of 1931 raised the sea bed 2 metres, giving Napier more land!
Car rentals are available from the leading rental companies live Avis, Hertz and Budget.
More information on the Airport website: www.hawkesbay-airport.co.nz
Flights Information available here: www.hawkesbay-airport.co.nz/Flights
Airport Information
Address: Main North Road, SH2, Napier
Phone No: (06) 835 1130 Air New Zealand Flight Enquiries or Lost Baggage www.airnz.co.nz
(06) 835 8898 Airport Carparking, Security, Maintenance

(06) 835 3427 Hawkes Bay Airport Ltd
0800 786 247 SunAir
(06) 835 6182 Air Napier (Freight)
Hawkes Bay Airport Map