The Napier Antique and Jewellery Centre is located on Tennyson Street, Napier. Housed in a beautiful Art Deco building, this is a treasure trove of wonderful pieces.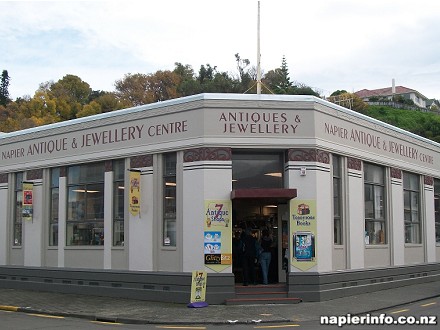 The antique centre is a large open plan area with numerous dealers offering many different styles of antiques and collectables. There are 7 antique dealers with everything from vintage jewellery, china, furniture and ceramics.
Vintage Vogue offers clothing and fashions from the 20s to the 70s. If you are looking for a pair of art deco period gloves for your stay in Napier, look no further. Tennysons Book Shop completes the centre with a vast selection of books from old to new.
Centre Information
Address: Cnr Tennyson St & Cathedral Lane, Napier
Phone No: 06 835 9865
Hours: 9am - 5pm Mon - Fri, 10am - 4pm Weekends
Napier Antique Centre Map